How to Reach Out To Others On Instagram For Partnerships
(Read Time: 2 minutes, 34 seconds)
Ah. The lone creative who takes on the world all alone and comes out on top! What a nice idea; that's just what it is, though, an idea. In reality, we all need a little help to reach our goals. And sis, there's nothing wrong with that: making friends, helping others and receiving help in return is what life's all about! It's been this way since time began, and in today's age of social media the exact same holds true. Don't shut yourself off: it is called 'social' media after all. If you're looking to reach out to other creative types on the web (particularly for partnerships in the Instagram space), there is a specific way to go about it. It's not a 'hard and fast' set of rules or anything; think of this as a best practice and you'll be on the right lines!
Build a Relationship First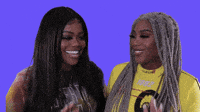 Hypothetical scenario time! Who are you more likely to collaborate with: the highly engaged person with an established interest in your work or the stranger who shows up outta' the blue with kind words, big promises and little else? Exactly. If you're looking to partner up with someone on Instagram, get to know them first and make sure they're familiar with you too! Like, comment and engage with their content. They might even become a fan of your work in the process, and even if they don't, your partnership proposal will at least have some 'weight' behind it that'll be sorely missing if you just rock up in their DMs!
Respect Their Time
Girl, you're busy; I'm busy; we're all busy! No partnership has ever been established off the back of a long, winding string of messages because no successful creative has the TIME to read through it! When sending out your first message to a potential Instagram partner, be quick and get to the point. Sentence one: compliment their work; (and make it a genuine compliment—they'll know!) sentence two: tell them who you are, if they don't already know; and sentence three: tell them what you want.
Be clear, be upfront and be polite. Easy!
Be Understanding If You Get No Response
As established, we're all busy. Sometimes you can make all the right moves—engage with your (hopeful) partner-to-be, be polite and create a concise proposal—and still receive absolute radio-silence as a response. Don't take it personally, girl: we both know you're awesome! Be empathetic; try and imagine all the potential distractions, problems and disasters that could shower down on the creative you want to partner with. Your proposal could easily have slipped in unnoticed underneath an avalanche of other concerns. Think about it from their perspective and—again—don't take anything personally!
Wrapping Up
Partnerships are a fantastic way to reach a larger audience and grow your creative career. While being sincere, polite and concise are absolute best ways to go about forging partnerships, it's important to remember that rejection is a natural part of the process. Learn to take that rejection with grace; if you do, you'll be partnered up and on your way to success in no time!